Call for Postdoctoral and Research Scholarships 2020
Deadline 31st May 2019
Every year we welcome numerous researchers and scholarship holders from all over the world who come to Frankfurt in order to get in touch with other researchers in a productive working atmosphere and to conduct research in our library with its many special collections.
The MPIeR awards several fellowships for a research stay at the Institute in 2020.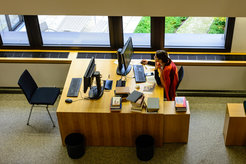 For 2020 the main areas of research pursued at the Institute are:
Department I – Professor Stefan Vogenauer
Legal transfer in the common law world
History of European Union Law
Fundamental issues concerning legal reception
Department II – Professor Thomas Duve
History of legal historiography: traditions of writing legal history
Law and diversity: legal historical perspectives
Glocalicing normativities in Iberian Imperial territories (15th – 19th century)
Deadline for applications is May 31st 2019.
You may submit your application by clicking "here".
You can find more information "here".