A Bibliographical Quartet in the 'Subsidia et Instrumenta' series (mpilhlt Research Paper Series)
The Institute's Research Paper Series regularly publishes research contributions on legal history. Since 2017, there is a subseries called 'Subsidia et Instrumenta', which provides the scholarly community, as well as students and the interested public, with research tools such as source editions and bibliographies. The culmination of years of intensive research, four comprehensive bibliographies on (legal) historical topics have been published in recent months.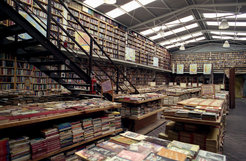 The authors focus on various research topics at the Institute. While Caspar Ehlers outlines and categorises the historiography on the topic of 'legal space' from a medievalist perspective, Christoph Meyer systematically compiles the relevant literature on the status of non-Christians in the normative culture of the Catholic Church from antiquity to the 20th century. Celia Alejandra Ramírez Santos and José Luis Egío, on the other hand, present a critical conceptual-historical bibliography of recent research on the School of Salamanca. Moreover, Otto Danwerth's basic bibliography of the pertinent literature on the colonial history of Ibero-America and the Spanish Caribbean – organised regionally, chronologically and thematically – was also recently published.
While the methods and organisational criteria used by each author may differ, this bibliographical quartet clearly demonstrates just how useful this currently oft-neglected academic genre can be. The four bibliographies, as well as all other contributions in the series, are available Open Access at ssrn.com.