Rechtswissenschaft in Osteuropa.
Studien zum 19. und frühen 20. Jahrhundert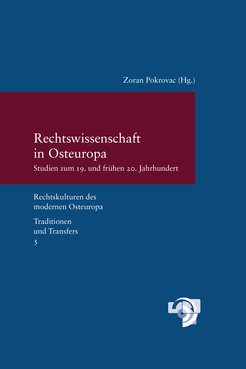 Herausgegeben von Zoran Pokrovac
Studien zur europäischen Rechtsgeschichte 248
Rechtskulturen des modernen Osteuropa. Traditionen und Transfers 5
Frankfurt am Main: Klostermann 2010. IX, 436 S.
ISSN: 1610-6040
ISBN: 978-3-465-04095-8
---
Neben den Strukturen 'Rechtsprechung' und 'Juristenausbildung' (Studien zur europäischen Rechtsgeschichte 225) ist die Rechtswissenschaft in entscheidender Weise am Transfer des Rechts in Osteuropa beteiligt gewesen. Evident ist dies für die Regionen, in denen die Gesetzgebung ganz oder weitestgehend passiv geblieben war. Aber auch dort, wo die Auseinandersetzung mit fremden Rechtsmaterien durch die Legislative erfolgte, war die Rechtswissenschaft für Ausmaß und Tempo der normativen Transformation zentral. Ein weiterer Band des Projekts wird sich mit der Rolle der Rechtsprechung beschäftigen.
Inhalt:
Zoran Pokrovac (Frankfurt a.M./Split), Vorwort
Volodymyr Oleksijovyc Abaschnik (Charkow), Rechtswissenschaft und Juristenausbildung in der Ukraine am Beispiel der Universität Charkow (1804–1920)
Arkadiusz Bereza, Grzegorz Smyk, Wieslaw P. Tekely (Lublin), Legal Science on the Polish Territories in the 19th Century
Dalibor Cepulo (Zagreb), West to East – East to West: Baltazar Bogišic and the English School of Historical and Comparative Jurisprudence (H. S. Maine, F. Pollock, P. Vinogradoff)
Katalin Gönczi (Frankfurt a. M.), Charakteristika und Tendenzen der ungarischen Rechtswissenschaft im »langen 19. Jahrhundert«
Marju Luts-Sootak (Tartu), Die baltische Privatrechtswissenschaft im 19. Jahrhundert zwischen deutscher Rechtswissenschaft und russischer Politik
Dan Constantin Mâta (Iasi), The Development of Romanian Legal Science (1814–1940)
Anton Rudokvas, Alexej Kartsov (St. Petersburg), The Development of Civil Law Doctrine in Imperial Russia Under the Aspect of Legal Transplants (1800–1917)
Petra Skrejpková, Jirí Šouša (Prag), Die Rechtswissenschaft in den Böhmischen Ländern von der Aufklärung bis zum Jahre 1918
József Szabadfalvi (Debrecen), Bódog Somló – The »Representative Man« of Hungarian Legal Philosophy
Agnieszka Zieba (Bochnia), Professor Józefat Zielonacki – Ein polnischer Gelehrter des 19. Jahrhunderts und sein Rang in der romanistischen Rechtslehre.