Modernisierung durch Transfer zwischen den Weltkriegen
Herausgegeben von Tomasz Giaro

Studien zur europäischen Rechtsgeschichte 215
Rechtskulturen des modernen Osteuropa. Traditionen und Transfers 2
Frankfurt am Main: Klostermann 2007. VIII, 317 S.

ISSN: 1610-6040
ISBN: 978-3-465-04017-0
---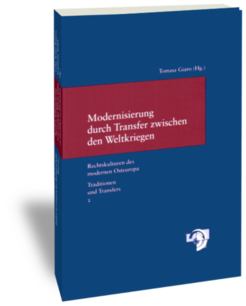 Im direkten Anschluss an den Überblick über die Modernisierung osteuropäischer Rechte im "langen 19. Jahrhundert" (Studien zur europäischen Rechtsgeschichte 205) widmet sich der vorliegende zweite Band mit der so genannten Zwischenkriegszeit einer Phase außerordentlicher Turbulenz. Politische Umbrüche und eine forcierte sozioökonomische Modernisierung formieren auch in Osteuropa eine oft genug dramatisch zugespitzte Szenerie mit großen Risiken, aber auch ungeahnten Chancen für institutionellen Wandel, dem sich auch die betroffenen Rechtssysteme nicht entziehen können.
Inhalt:
Gerd Bender, Vorwort; Vladimir Hanga (Cluj-Napoca), Les Transferts de droit. Une esquisse
Toomas Anepaio (Tartu), Die rechtliche Entwicklung der baltischen Staaten 1918–1940
Lucian Goga (Sibiu), Politik und Rechtskultur der Zwischenkriegszeit in Rumänien
Katalin Gönczi (Frankfurt a.M.), Kontinuität und Wandel im ungarischen Rechtssystem der Zwischenkriegszeit
Maryna Kazimirova (Minsk), La révolution du droit en Russie
Oleg Subbotin (Minsk), Das sowjetische Arbeitsrecht zwischen den Weltkriegen 1917–1941
Jani Kirov (Frankfurt a.M.), Christian Takoff (Sofia), Die bulgarische Gesetzgebung der Zwischenkriegszeit
Mirela Krešic (Zagreb), Yugoslaw private law between the two World Wars
Srðan Šarkic, Maša Kulauzov (Novi Sad), Constitutional history of Yugoslavia 1918–1941
Natasha Shehu (Tirana/Brindisi), The Albanian constitutional and legal system between the World Wars
Petra Skrejpková (Prag), Umwandlungen der tschechoslowakischen Rechtsordnung 1918–1938
Miriam Laclavíková (Tyrnau), The legal history of Slovakia as a part of Czechoslovak Republic 1918–1938
Michael Tsapogas (Athen), Das griechische Privat- und Staatsrecht zwischen den Weltkriegen
Wojciech Witkowski, Andrzej Wrzyszcz (Lublin), Modernisierung des Rechts im unabhängigen Polen
Tomasz Giaro (Frankfurt a.M.), Alt- und Neueuropa, Rezeptionen und Transfers.