Savigny international?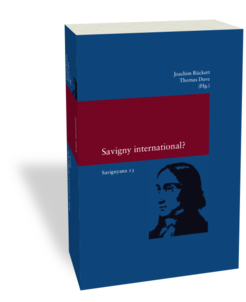 [Savigny International?]
Edited by Joachim Rückert and Thomas Duve
Studien zur europäischen Rechtsgeschichte 291
Savignyana 13
Frankfurt am Main: Klostermann 2015. VII, 481 p.
ISSN 1610-6040
ISBN 978-3-465-04244-0
---
Do dead men tell tales? Some surely do, but only a select few. Friedrich Carl von Savigny, the most celebrated jurist of early modern German jurisprudence who has enjoyed unrivalled global popularity, is certainly one of those select few. But the question remains how he was selected, when and where.
This volume investigates which of his works have been interpreted – or misinterpreted – and how in France, Italy, Spain, Brazil, England, the USA, Denmark, Sweden, Norway, Finland, Russia, Japan and China. Misinterpretation could and did occur across such diverse times, places, political and intellectual climates.
Research has so far been restricted to isolated 'influences', but now entire paradigms and received images are topics of discussion. Both aspects receive deep analysis through a profound command of the sources, which is brought to bear on certain key texts and images of Savigny. Thus, the volume does not fragment into individual studies; rather, each takes up Savigny's works themselves before depicting their manifold receptions in various contexts and the metamorphoses of the images of Savigny. The distinctions do not merely evaporate; they become commonalities, differences, tendencies and structures with voices of their own. The volume closes with a summarizing conclusion and a comprehensive bibliography of translations organized systematically by language and chronologically by work. Now one can perceive historical and current processes of selection.
Inhalt
Einführung
Joachim Rückert (Frankfurt am Main)
Das Vorhaben: Drei Zugriffe. Savigny-Bilder. Übersetzungen. Schlüsselworte
Schwerpunkt I:
Savigny-Übersetzungen und Savigny-Bilder
Alfred Dufour

(Genf)
Savigny-Übersetzungen und Savigny-Bilder in Frankreich
Mathias Reimann (Ann Arbor)
»Wer vieles bringt, wird manchem etwas bringen.« Savigny-Übersetzungen und Savigny-Bilder in der Welt des Common Law
Lars Björne (Turku)
Das ferne Vorbild – Savigny in der nordischen Rechtswissenschaft
Konstantin V. Gnitsevich und Ilya L. Chestnov (St. Petersburg)
Friedrich Carl von Savigny im Spiegel der Russischen Jurisprudenz
Hidetake Akamatsu (Fukuoka)
Die Savigny-Rezeptionen in Japan und die Savigny-»Bilder« dabei
Luis Lloredo Alix (Madrid)
Der spanische Savigny: Zwischen Historismus, Nationalismus und Traditionalismus
Laura Moscati (Rom)
Savigny in Italien: zwanzig Jahre später
Aldo Mazzacane und Cristina Vano (Neapel)
Über die italienischen Übersetzungen zu Savigny
Schwerpunkt II:
Savigny-Übersetzungen und Savigny-Schlüsselworte
Corrado Bertani (Turin)
Italienische Übersetzungen von Savignys Schriften im 19. Jahrhundert. Bestand, Charakteristika, Schlüsselworte
Stefan Vogenauer (Oxford)
Schlüsselwörter in englischen Savigny-Übersetzungen
Marie Sandström (Stockholm)
Jenseits der Philosophie. Friedrich Carl von Savignys Begriffswelt in der Übersetzung
Thiago Reis e Souza (Porto Alegre/Sao Paulo)
Savigny-Leser in Brasilien um die Mitte des 19. Jahrhunderts
Kenichi Moriya (Osaka)
Zur Geschichte der Savigny-Forschung in Japan zwischen 1880 und 1945
Miaofen Chen (Taipeh)
Die Bedeutung von Savignys Rechtslehre für die moderne Rechtsreform im chinesischen Sprachraum
Schlusskommentar und Zusammenfassung
Hans-Peter Haferkamp
Savigny in der Fremde – einige summarische Betrachtungen
Joachim Rückert
Die Präsentation des Buches Savigny-Portraits im Freien Deutschen Hochstift und Goethehaus. Ein Bericht
Anhang
A. Bibliographie der Übersetzungen; B. Chronologische Tabelle der Savigny-Übersetzungen
Personenregister