Einheit und Recht
Strafgesetzgebung und Kriminalrechtsexperten in Deutschland vom Beginn des 19. Jahrhunderts bis zum Reichsstrafgesetzbuch 1871
[Unity and Law
Criminal Law Experts and Legislation in Germany from the Early 19th Century to the Imperial Criminal Code of 1871]
Sylvia Kesper-Biermann
Studien zur europäischen Rechtsgeschichte 245
Frankfurt am Main: Klostermann 2009. VIII, 501 p.
ISSN 1610-6040
ISBN 978-3-465-04078-1
---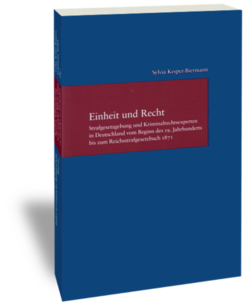 In spite of a few changes over its 130-year history, the Imperial Criminal Code remains the foundation of current criminal law, which makes the neglect of the history of its origins all the more surprising. The same applies to the criminal codes promulgated by nearly every German state in the first two thirds of the 19th century. This study seeks to close both gaps by paying particular attention to the relations between ideas, experts and legislation. Doing so entails reconstructing the discourses about criminal codification, about the actors who contributed to the formulation and application of the concepts of criminal law, and about the course of the legislative process and the interactions between ideas and codification. These discourses draw attention to the role of experts in criminal law, their influence on politics and legislation, their communication networks throughout Germany in the 19th century, as well as the significance of the unity of (criminal) law for visions of the nation and national movements in Germany.