Science politique et droit public dans les facultés de droit européennes (XIIIe–XVIIIe siècle)
Sous la direction de Jacques Krynen et Michael Stolleis

Studien zur europäischen Rechtsgeschichte 229
Frankfurt am Main: Klostermann 2008. IX, 629 S.

ISSN: 1610-6040
ISBN: 978-3-465-04041-5
---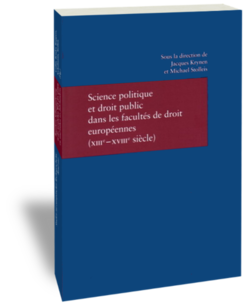 Inhalt:
Jacques Krynen, Introduction
André Gouron, Glossateurs et théories politiques
Anne Lefebvre-Teillard, L'école parisienne et la formation «politique» des clercs au début du XIIIe siècle
Kees Bezemer, Pierre de Belleperche: An early attempt to make public law a separate branch of legal science?
Henri Gilles, Loi et coutume chez les Doctores Tholosani
Victor Crescenzi, Il problema del potere pubblico e dei suoi limiti nell'insegnamento dei Commentatori
Karl Ubl, Die Disziplinierung der Gelehrten. Philipp IV. von Frankreich und die Universität Paris
Ennio Cortese, Absolutisme et légalité dans le droit savant du Moyen Âge. Les deux faces d'une même médaille
Jürgen Miethke, Kanonistik und Prolegomena zu einem deutschen Staatsrecht: Lupold von Bebenburg und Peter von Andlau im Vergleich
Patrick Gilli, Regimen, administratio, dignitas dans l'exégèse juridique: le cas de l'Apparatus d'Innocent IV
Orazio Condorelli, Francesco Zabarella sull'origine della giurisdizione ecclesiastica e civile
Aquilino Iglesia Ferreirós, Entre Lérida, Bolonia y Montpellier
Thomas Wetzstein, La doctrine de la «translatio imperii» et l'enseignement des canonistes médiévaux
Susanne Lepsius, Prätor und Prokonsul – Übersetzungsleistungen und Neuschöpfungen der mittelalterlichen Legisten im Umgang mit den römischen Ämtern
Laurent Waelkens, L'influence de la fondation de la Faculté de droit de Louvain (1425) sur la formation des Pays-Bas
Helmut G. Walther, Pavia und Padua im frühen 15. Jahrhundert. Zur Profilierung zweier Rechtsuniversitäten bei der Ausbildung für die politische Praxis
Mario Ascheri, Dottrine universitarie, pensiero politico e istituzioni comunali: alcuni problemi
Patrick Arabeyre, Un enseignement de science politique dans les facultés de droit canonique françaises de la fin du XVe et du début du XVIe siècle (Paris, Cahors, Toulouse)
Géraldine Cazals, Sur quelques manuscrits universitaires toulousains du XVIe siècle et sur l'enseignement de François Roaldès
Diego Quaglioni, L'éducation du juriste face au pouvoir: La «methodus» de Matteo Gribaldi Mofa (1541)
Tomàs de Montagut, El Commentarius ad Usaticum «Alium Namque» del jurista Antoni Olibà (1534–1601). (La construcció històrica d'un sistema de dret públic a Catalunya)
Jacques Poumarède, Antoine Dadin de Hauteserre. L'œuvre politique d'un professseur toulousain, sous Louis XIV
Jean-Louis Thireau, Une vision du droit public romain au XVIe siècle: le tractatus analyticus de dignitatibus, magistratibus et civibus romanis de Charles du Moulin
Merio Scattola, Von der Politik zum Naturrecht. Die Entwicklung des allgemeinen Staatsrechts aus der politica architectonica
Francisco Luis Pacheco Caballero, Conceptos y debates políticos en la literatura castellana del siglo XVI. El príncipe y el derecho. Tres ejemplos (Rodrigo Suárez, Gregorio López, Juan Gutiérrez)
Alain Wijffels, Une disputation d'Alberico Gentili sur le droit du souverain de disposer de son royaume et des biens de ses sujets (1587)
Karl Härter, Ius publicum und Reichsrecht in den juristischen Dissertationen mitteleuropäischer Universitäten der Frühen Neuzeit
Angela De Benedictis, «Iura municipalia» e «Ius publicum bononiense» nello Studio di Bologna
Italo Birocchi, L'insegnamento del diritto pubblico nelle Università italiane nel XVIII secolo
Maria Gigliola di Renzo Villata, Le droit public en Lombardie au XVIIIe siècle et l'Europe
Michael Stolleis, Gelehrte und politische Editoren mittelalterlicher Texte um 1600
Jacques Verger, Conclusions.