Brexit as an Explicable Decision
a British Perspective
Almost exactly three years after the referendum of the United Kingdom to leave or remain in the European Union, Professor Stefan Vogenauer, Director at the Institute, spoke at the invitation of the Society of 1947 for Economic Policy at the Chamber of Commerce and Industry - IHK Frankfurt am Main on the topic 'Brexit as an Explicable Decision: a British Perspective' last monday.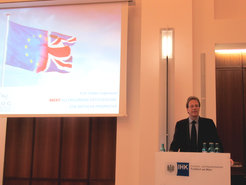 Vogenauer mentioned only briefly the widely known current reasons for the outcome of the referendum as well as the manifestations of the United Kingdom's Euroscepticism since its accession to the European Communities in 1973. Rather, he concentrated on the deeper historical origins of the desire to leave in the sense of a longue durée perspective.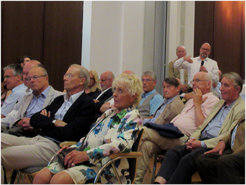 He cited seven specific concepts of identity that are constitutive of the British self-image, which can ultimately be traced back to centuries of constitutional, colonial and economic history in the United Kingdom and which, from the British perspective, argue against membership in the EU. As a result, the desire to withdraw becomes easier to comprehend. At the same time, it became clear that Brexit was a textbook example of the power of historical narratives long after their origins have vanished.