Konzern und Moderne
Die verbundene juristische Person in der visuellen Kultur 1880–1980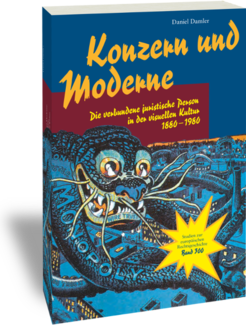 [Corporate Modernism
Corporate Groups in Visual Culture 1880-1980]
Daniel Damler
Studien zur europäischen Rechtsgeschichte 300
Frankfurt am Main: Klostermann 2016. XI, 371 p.
ISSN 1610-6040
ISBN 978-3-465-04286-0
---
Since the late 19th century, one can observe how a diffuse anxiety had become widespread in Europe and North America: fear of a nameless superpower operating hidden in the background that undermines the state monopoly of force, i.e. the trusts or corporate groups. Because an institutional change – in contrast to a technological one – cannot be direct observed, its features and characteristics have to be visualized, perceptually made manifest. This challenge triggered the ambition of entire groups of jurists, economists, journalists, graphic designers, cartoonists, painters, architects and directors. Among those engaged in the fight for the interpretational determination were publishing legends like Pulitzer and Hearst as well as such prominent figures as Rockefeller, Lenin and Le Corbusier.
By means of meaning-giving – in the most literal sense of the term – "corporate images", a psychological profile of the (high) modernity can be developed, which documents the fears, ambitions and visions of this era as well as opens our eyes to hidden patterns of thought and guiding principles in the legislation, jurisprudence and science. The metaphor of the trust or corporate unifies the intellectual hotspots of social, economic, legal and political developments to an impenetrable associative ring of fire, which elicits every idiosyncratic, fateful anxiety that has shaped the 20th century and promoted an orientation toward totalitarian models of rule.
Inhalt
Vorwort | XI
Prolog Die zweite Schöpfung | 1
Mensch und »Concern« | 2
Verbundenes Denken: Sprachbilder | 4
Verbundenes Denken: Schaubilder | 7
Örtlicher und zeitlicher Rahmen | 15
Forschungsstand | 17
Erstes Kapitel Der Octopus | 21
Rockefellers »Standard Oil«: Archetypus und Ikone der verbundenen Kapitalgesellschaft | 22
Corporate City: Wie New York sein Verkehrssystem modernisierte | 32
Trustbuster und Muckraker: Aufstieg und Fall des investigativen Journalismus | 48
IV. When Law goes Pop: Die Geburt des Konzerns aus dem Geist des Cartoons | 55
Schlangen, Kraken, Spinnen: Die Einheit verbundener Unternehmen avant la lettre | 63
Zweites Kapitel Der Bastard | 85
Die unnahbare Schöne: Corporate imagery im 19. und frühen 20. Jahrhundert | 86
Familienidylle: Verbundene Unternehmen als tugendhafte Gemeinschaft | 99
Hundert Jahre Zwietracht: Die GmbH & Co KG – Trauma der deutschen Rechtswissenschaft | 110
Fluch der sittlichen Unmöglichkeit: Juristische Personen als persönlich haftende Gesellschafter | 124
Rebellion des juristischen Formgefühls: Der Kampf gegen die »Grundtypenvermischung« | 135
Drittes Kapitel Das Imperium | 157
Lenin in Zürich: Quellen und Vorgeschichte einer revolutionären Imagination | 158
Von der imperial map zum Konzernschaubild: Die visuelle Sensibilität des Sozialismus und ihre Folgen | 171
Kautskys Einwand: Kritik der Gleichsetzung geopolitischer und korporativer Strukturen | 182
Viertes Kapitel Das Komplott | 193
Morning Post, 20. August 1918: Der internationale Konzern als Feind in Englands Mitte | 194
Lex Merton: Die Kontroverse um die Non-Ferrous Metal Bill | 204
Weltkonzern und Weltverschwörung: Strategien einer Nivellierung | 209
Fünftes Kapitel Der Moloch | 219
Flanieren durch Babylon: Die urbane Präsenz der Großkonzerne in den Goldenen 20er Jahren | 220
Kontrollverlust und Ohnmacht: Die Kritik an den Kapitalgesellschaften im Spiegel anti-urbaner Ressentiments | 230
Ein lebensfrohes Miteinander: Kleinstadtromantik und »Verpersönlichung« der Aktiengesellschaft | 235
Sechstes Kapitel Das Ornament | 251
Komplexität und Verbrechen: Von der progressiven zur reaktionären Sachlichkeit | 252
Diktatur der Transparenz nach 1945: Die ordnungspolitische »Glaskultur« des Ordoliberalismus | 265
Kapitalismus als Häresie der Formlosigkeit: Le Corbusiers Vision einer strahlenden économie coordonnée | 274
Lob der Vielfalt und Renaissance des Laisser-faire: J. Jacobs, F. A. von Hayek, M. Friedman | 284
Verbundene Verträge: Die postmoderne Kapitalgesellschaft | 295
Epilog Leviathans Wiederkehr | 303
Quellen- und Literaturverzeichnis | 321
Abbildungsverzeichnis | 359
Orts- und Personenregister | 367