The Institute
The Max Planck Institute for European Legal History regards one of its most important tasks to be making a specific contribution to the basic research in legal studies and social sciences, as well as in historical humanities through historical research based on theoretical reflection in the field of law and other forms of normativity.
Its research focuses on historical law modi, its constitution, legitimation, transformation and practice. Particular attention is paid to the positioning of "law" in the field of other normative orders. The development of perspectives on global history enhances and extends the research tradition of legal history in Europe. The Institute can build upon a 50-year history. While the emphasis was placed on the history of private law in Europe when the Institute was founded by Helmut Coing in 1964, its fields of activity were gradually extended to other research areas, such as the history of public law, international law and criminal law, under the subsequent Directors, Walter Wilhelm, Dieter Simon, Michael Stolleis and Marie Theres Fögen. If, for a long period, the utmost importance was attached to the evaluation of legislation and the great academic reference texts, the focus today is also increasingly placed on other sources. Whereas particular emphasis was traditionally placed on the legal history of Europe, the Institute now extends - under the direction of Thomas Duve (since 2009) and Stefan Vogenauer (since 2014) - its scope to other regions. Global perspectives should help to overcome the analytical division of areas, to critically evaluate some fundamental assumptions of European legal history and to also present Europe as a global region from a legal historical viewpoint. Both departments carry out independent research projects which are integrated into a common research profile.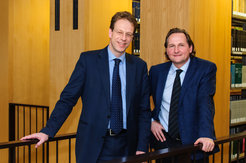 Many research projects are carried out with universities or research institutions in Germany and abroad. Guest researchers undertaking research residencies at the Institute provide it with a connection to a diverse range of environments for academic discourse. The Institute's research, publications, international graduate schools and co-operation initiatives make it a reference point for the national and international scientific community. With its specialist library containing around 470,000 printed media units, it offers internationally unique working conditions for research on legal history. The range of services in the virtual reading room is also being systematically expanded. Some of the Institute's research output is reflected in its publication series, the journal Rechtsgeschichte - Legal History and a working paper series on SSRN. The Institute's work is evaluated by a Scientific Advisory Board, while a Board of Trustees and a friends' association support and promote its activities.
The Institute has been based in Frankfurt am Main since its founding. The city offers an inspirational environment for the Institute and its guests. Once inseparably linked with German (legal) history as an imperial stronghold, the venue for important synods in the Carolingian period, as a free imperial city and an elector of German kings, and as the seat of the Paulskirchenparlament, Frankfurt today is not only a financial and economic centre, but also home to cultural institutions of international renown, museums and a major book fair. Goethe University Frankfurt is one of our most important co-operation partners. It contains the largest German university institute for legal history, where a wide range of research is conducted in the fields of law, history and the humanities. Supra-regional co-operation in the fields of research and the promotion of graduates contribute towards establishing Frankfurt as a hub in the global network of basic research on law.