Conciliar Decision Making in Late Antiquity and the Early Middle Ages (6th–mid-9th Centuries)
International Conference
Start:

Oct 5, 2017

End:

Oct 7, 2017

Organisation:

Prof. Dr. Panagiotis Agapitos, Prof. Dr. Wolfram Brandes, Prof. Dr. Hartmut Leppin

Location:

MPIeR

Room:

Z 01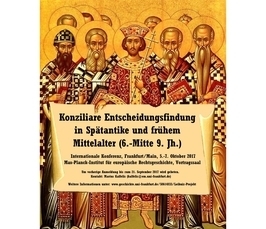 This conference aims to compare the procedures that led to conciliar decisions and their formulations (canons, definitions, etc.) and ultimately to address the formation of canon law. It will address diverse factors, including, the influence of the state, confessional and political conflicts, personal altercations, among others. As a whole, the conference will seek a perspective that encompasses the entire Euro-Mediterranean region as well as the Middle East. One could of course exclude the Latin-speaking region (which would be a shame). But, at any rate, the Christianities of the Christian East—including Byzantium—will remain in the foreground. The recently completed monumental edition of the Greek acts of the Seventh Ecumenical Council (along with the Latin translation of Anastasius Bibliothecarius) will be especially emphasized, as it has set new standards. Important in this regard will be the question regarding the claim to ecumenicity.
The frequently discussed relationship between church and state is undoubtedly represented in the eastern churches differently than in Byzantium. The absence of a ruler or of a state and state church of the same faith openend different possiblities for these churches and Christianities than in the Latin West, the Caucusus, or Byzantium.
The conference is being organized by the Leibniz Project "Polyphony of Late Antique Christianity" of the Historical Seminar of the Goethe University in Frankfurt, the research center "Critical edition and comment of Byzantine legal texts" of the Göttingen Academy of Sciences and Humanities and by the Max Planck Institute for European Legal History.