Two new publications on the history of the nuclear controversy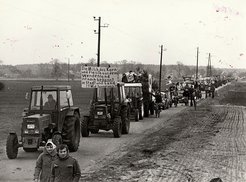 The search for the final repository for Germany's nuclear waste has only just begun. Two new publications by MPI for Legal History and Legal Theory researcher Jan-Henrik Meyer alert us to relevant insights from history. 'A short history of the nuclear controversy in Germany' highlights key dimensions of the conflict that mobilised postwar Germany's most persistent social movement. 'To trust or not to trust?' examines the case of the controversial Swedish nuclear power plant Barsebäck near Copenhagen to explore the relevance of trust, both within a country and across borders — its preconditions, the possibilities (and limits) of attempts at trust-building — with a view to nuclear installations.
1.
Kleine Geschichte der Atomkraftkontroverse in Deutschland
in: Aus Politik und Zeitgeschichte 71, 21-23 (2021), 10-16
2.
'To trust or not to trust?' Structures, Practices and Discourses of Transboundary Trust around the Swedish Nuclear Power Plant Barsebäck near Copenhagen
in: Journal of Risk Research, 1-15