New Head of the Max Planck Law Network
Max Planck Law is pleased to announce the appointment of Russell Miller as Senior Research Fellow and Head of the Max Planck Law Network.
Miller is the J.B. Stombock Professor of Law at the Washington and Lee University School of Law in Virginia, U.S.A. He will be on leave from W&L University during the two-year term of his appointment as Head of Max Planck Law.
The Max Planck Law Initiative brings together the eleven law-related Max Planck Institutes for interdisciplinary research and curricular collaboration. Miller explained: 'The Max Planck model, building on the unmatched scholarly profiles of the Institutes' directors, has fostered immensely successful and impactful legal research. That tradition will be strengthened by increased collaboration across the Institutes' areas of expertise.'
Russell Miller is a respected researcher, teacher, and scholarly entrepreneur. His academic work focuses on public law subjects as well as comparative law theory and method. He is regarded as a leading foreign scholar of German constitutional law and German legal culture.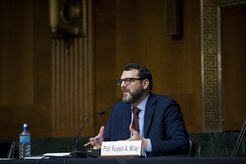 'I am thrilled to return to the orbit of the Max Planck Society,' Miller said. 'The Max Planck Institutes played a fundamental role in my development as a researcher and they have frequently supported my work. The Max Planck Institutes are my scholarly Heimat and I know first-hand how they can profoundly enrich and empower a researcher's career, especially at an early stage.'
'Professor Miller is exactly the right person to lead the Max Planck Law Network,' said Professor Stefan Vogenauer, Director of the Max Planck Institute for European Legal History and Chair of the Max Planck Law project. Vogenauer lauded Miller's 'deep familiarity with the German academic culture – and especially the Max Planck research tradition – which positions him to build on our strengths and diplomatically and productively nudge us where we can improve.'