'A New Europe After the Crisis?'
Institute Researchers Interviewed for Deutschlandfunk
In European law, as in other fields, there is quite a bit of discussion regarding the topic of 'crisis': for some time now the continent has been busy with the rule of law being razed in East Central European countries. Moreover, there was a point during the pandemic where it seemed as if Europe did not consider itself to be a community of solidarity, but instead fell back into national egoisms. In its recent PSPP ruling, the German Federal Constitutional Court purported to resolve a decades-long uncertainty in the state of EU law in its favour and declared a ruling of the European Court of Justice inapplicable.
As a matter of history, has the EU learned anything from its past crises? Should we be concerned about the conflict of jurisdiction between the European Court of Justice and the Federal Constitutional Court? What do recent events mean for the idea of a European 'community of law'? The science journalist Matthias Hennies spoke with Stefan Vogenauer and Thorben Klünder about these and other questions.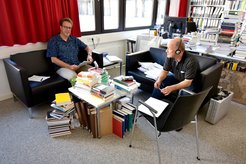 The past few decades have shown that European crises cannot be solved solely by means of the law. Europe has always solved major problems through political negotiation. Even when the courts dispute who in Europe has 'the last word', the law runs up against its limits. The appeal to the 'community of law' becomes a problem when it is used to shift political responsibility into the legal realm.
The 15-minute background report will be broadcast by Deutschlandfunk on 20 August at 8pm CET as part of the mini-series 'A new Europe after the crisis?'