Pandemics from a legal perspective
The current intensive debates on the legality and proportionality of orders and bans make clear that the Covid19 pandemic requires the input of lawyers. Many of those measures, such as quarantine, but also the resistance to them, for example against vaccinations, can already be seen in the fight against previous epidemics. Researchers at our Institute are currently involved in various research projects on legal history and comparative law, which demonstrates the variety of legal questions and problems connected with an epidemic.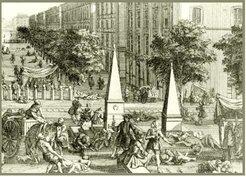 Access to relevant primary and secondary sources on the legal history of pandemics is provided by a jointly compiled online bibliography, initiated by David Schorr, Director of the David Berg Institute for Law and History at the University of Tel Aviv. Karl Härter is involved in the project as an expert on early modern criminal and administrative law. Sigfrido Ramírez Pérez has joined a network of circa 100 French-speaking academics, Le réseau POSOC-19, who are looking into the impact of the current crisis on political and legal systems in a comparative perspective.
The work of Professor Stefan Vogenauer, Director at the Institute, on contract law in a historical and comparative perspective has focused for some time now on how contract laws react to unforeseen changes in circumstances that occur after the conclusion of a contract and disrupt the contractual equilibrium. What happens, for example, if one party cannot perform its contractual obligations because its factory has been closed due to the pandemic? A comparative overview of how key European legal systems tackle these issues can be found in chapters 28 to 30 of the third edition of Cases, Materials and Text on Contract Law, a volume in the Ius Commune Casebooks for the Common Law of Europe series which he co-authored in 2019.
---
Teaser Image: Copper engraving of a witness of the plague of Marseille from the year 1720.
(The original uploader was Christophe.moustier at Wikipedia.fr.)