The relaunch of our website:  it's not just a new design
Our Institute website now presents itself in a new, responsive design that will make it much easier to use also on mobile devices. However, there are some changes in content, too: Departments I (Stefan Vogenauer) and II (Thomas Duve) have now been given names, and there is a new Forum section. Department I is now called European and Comparative Legal History, Department II Historical Regimes of Normativity. The Forum unites all our cross-departmental activities, from our shared Research Field Legal Historiography and our joint events, like the Colloquium and the Frankfurter Rechtshistorische Abendgespräche, to our work in the Digital Humanities and a research project on the history of legal studies within the Max Planck Society since 1945, coordinated by our Institute.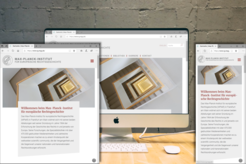 Why? The website's new structure reflects the development and expansion of our Institute's work. The Institute's first research profile, formulated in 2013, consisted of four Research Foci – Multinormativity, Translation, Legal Spaces, and Conflict Regulation – and a number of Research Fields that in the years since Stefan Vogenauer's appointment as Director in 2015 has grown to 14. This institutional growth and the research results achieved in the last years have prompted us to look for a new format that enables us to adequately represent both the complementary profiles and the joint activities of our two Departments. Both Departments and our two independent Research Groups build on our Institute's important findings and research traditions to develop these further and to extend our work into new areas.
We are pleased that the launch of our new website gives us the opportunity to present these developments at our Institute and in our work in what we hope is both an easily accessible and attractive format.