Prize for outstanding research on Frankfurt's Jewish history awarded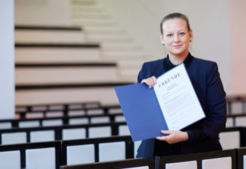 Dr. Vera Kallenberg, postdoctoral researcher at the Chair of North American History at the Universität Erfurt and former doctoral student at our Institute, has been awarded the Arno Lustiger Prize 2019 for her dissertation 'Jüdinnen und Juden in der Frankfurter Strafjustiz 1780 – 1814: Die Nicht-Einheit der jüdischen Geschichte' ('Jews in Frankfurt Criminal Justice 1780 – 1814: The Non-Unity of Jewish History'). The prize, which carries an award of 3000 Euros, is conferred by the Stiftung Polytechnische Gesellschaft Frankfurt am Main.
By analysing 400 criminal cases, Kallenberg's dissertation opens up an interdisciplinary approach to the transition between the early modern and modern periods. The combined analysis of aspects from gender, social and legal history enables Kallenberg to explore the complex reality of Jewish emancipation. The prize jury commended her study for making 'a particularly innovative contribution to a more differentiated view of the hostility towards Jews after the Enlightenment'. The dissertation was supervised by Karl Härter.