Asia Pacific Trust Law Conference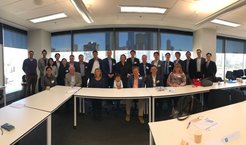 Melbourne Law School held its first Asia-Pacific Trust Law Conference on 9-10 December 2019. The theme of the conference was broadly defined as 'Theory and Practice in Context'. The conference included papers from 16 jurisdictions, as well as papers on private international law and offshore jurisdictions in the Asia-Pacific region generally.
Aleksi Ollikainen-Read chaired a session on Indonesian and Vietnamese law, and acted as a discussant for the two papers. Overall, the papers ranged from jurisdictions with a direct common law influence (such as Australia, Hong Kong and India) to mixed civil/common law jurisdictions (such as Thailand, Taiwan or Japan) to pure civil law jurisdictions (such as Indonesia and Vietnam) without a direct trust comparison but many functional equivalents. The range of jurisdictions and topics made for a lively and interesting comparative discussion throughout the two-day conference.