Colloquium: Colonial Visual Knowledge: photography as a source to study colonialism in Africa
Colloquium
Date:

Dec 6, 2019

Time:

02:30 PM - 04:00 PM (Local Time Germany)

Speaker:

Ana Carolina Schveitzer (Humboldt University of Berlin)

Organisation:

Maysa Espindola Souza, Mariana Armond Dias Paes

Location:

MPIeR

Room:

Seminar room of the MPI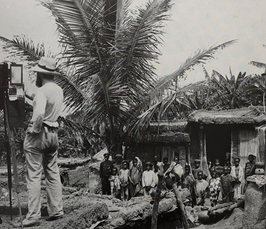 How did colonial society use photography during colonialism in Africa? How can historians question African's colonial past through iconographic sources, especially photographs?
Based on these questions, this presentation aims to analyse the main studies involving African history and photography. The presentation consists of four parts: First, I will discuss the various photographic practices between 1880 and 1930. Then, I will point out studies that analyse photography as a social representation of colonialism. In the third part, I will briefly talk about the methodologies that understand photography in terms of an artefact or commodity. Finally, I will comment briefly on the institutional collections and databases where these sources are currently located.
The colloquium will be held in Portuguese.