Jornal de Angola about the research on the case files of the District Court of Benguela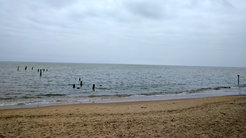 On 16 September, the Jornal de Angola, Angola's leading daily newspaper, published an article about one of the research projects in which the Institute is involved. Since 2017, the MPIeR is a partner in a collaborative project to organise and catalogue the collection of lawsuit files of Benguela District Court in the 19th and 20th centuries. The project is jointly led by Mariana Candido (University of Notre Dame), Mariana Dias Paes (MPIeR) and Juelma Matos (Katyavala Bwila University/MPIeR). The article focuses on the Benguela District Court materials' potential for research on the history and legal history of Angola. It also reports on the work of our Post-Doc Mariana Dias Paes' Research Group Law and the Creation of the Dependency in the Ibero-Atlantic and includes an interview with her on her career on the development of her work as a legal historian.
http://jornaldeangola.sapo.ao/reportagem/queixas...
---
Photo © Mariana Dias Paes