The School of Salamanca: New Digital Edition of Melchor Cano's Relectio de Poenitentia now online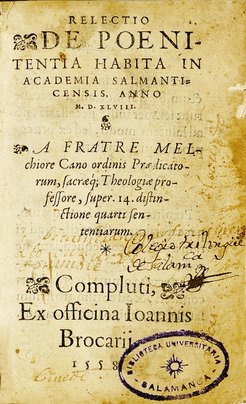 Melchor Cano (1509-1560) is one of the most important authors of the School of Salamanca: as a pupil of Francisco de Vitoria, he entered the Dominican Order at the age of fifteen. Ten years later, Cano received his first theological chair in Valladolid; after the death of his academic teacher Vitoria in 1546 he took over the renowned cátedra de Prima in Salamanca himself. Cano participated in the political debates about the Spanish conquest of the Americas, among other things as a commission member in the so-called controversy of Valladolid, in which the different points of view clashed in the persons of the protagonists Bartolomé de Las Casas and Juan Ginés de Sepúlveda.
In 1547, one year after becoming professor in Salamanca, Cano held the public lecture De Poenitentia, in which he dealt with central questions of confession and the sacrament of penance. The elaborated version of this unusually long and detailed text, which comprises more than 170 printed pages, he prepared for publication in 1550. This first edition is now available in full text and digital images in the source collection of the project "The School of Salamanca".
The School of Salamanca. A Digital Collection of Sources and a Dictionary of its Juridical-Political Language is a joint project of the MPIeR, the Goethe University Frankfurt and the Academy of Sciences and Literature, Mainz.