At the British Legal History Conference 2019
The British Legal History Conference was held this year at the University of St Andrews in Scotland. The theme of the conference was 'comparative legal history'. Given that the Scottish legal system is mixed and influenced by both common law and civil law traditions, the theme of comparison was particularly well suited to the location and its surroundings. Some of the papers were explicitly comparative, and when the papers in each panel were taken together, they examined differences and similarities across jurisdictions and revealed broader patterns in the development of legal processes and legal change.
Two researchers from the research field 'Legal Transfer in the Common Law World' presented. Donal Coffey gave a paper entitled 'Provincialism and Federalism in Commonwealth Constitutional Thought'. He undertook an energetic and vigorous multi-jurisdictional analysis of constitutionalism in the British Empire in the interwar period. Justine Collins spoke about her work on 'An Examination of British Societal Laws as the Origins of the Comprehensive Slave Laws of the British West Indies'. Her insightful research showed how principles of English law were transplanted to the Caribbean across the seventeenth, eighteenth and nineteenth centuries. Their papers were thought-provoking and contributed to the overall discussion of comparative legal history. The papers of Coffey and Collins added an interesting and new comparative perspective from within the common law system.
Beyond these two lectures, the Institute's publications were present as well, showing the multilingual book series, journals, and paper series at a book display table.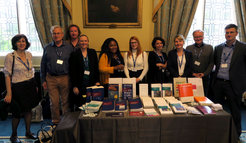 ---
Photos : © 2019 Otto Danwerth