"Just dominion: whatever may have been the right and justice in the beginning"
Reading Course
Start:

Apr 10, 2019 02:00 PM (Local Time Germany)

End:

Apr 12, 2019 01:00 PM

Organisation:

Christiane Birr, José Luis Egío (Goethe Universität), Andreas Wagner (MPIeR)

Location:

MPIeR

Room:

Z01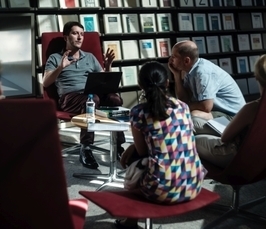 Reading Course of Alonso de la Vera Cruz'
Relectio De dominio infidelium et iusto bello
The discovery and conquest of America in the Early Modern era gave rise to intense debate among European jurists, theologians, and philosophers. Due to the leading role played by the Spanish monarchy in this process of conquests and assimilation of American indigenous peoples, most of the Iberian 'intellectuals' took part in the polemic. One of the major figures of this debate – as well as of the School of Salamanca – was the Augustinian monk and professor of theology Alonso de la Vera Cruz († 1584). First holder of the chairs of Sacred Scripture and S. Thomas at the newly established University of Mexico, he can be considered as the teacher who first introduced western philosophy in America.
Vera Cruz wrote the Relectio De dominio infidelium et iusto bello for the inauguration of the University of Mexico (1553). The text is a polemical reflection about the dilemmas related to the process of conquest and subordination of native American peoples which was then still in progress. Having always in mind the famous Relectio De Indis (1539) held by Francisco de Vitoria at the University of Salamanca some years before (with Vera Cruz already overseas), we will discuss the similarities and differences between the legal and political thinking of both authors.
Participants working on a research project of their own (master or doctoral thesis) will also have the opportunity to present and discuss their work during a special section of the Reading Course.