Workshop: Translating Weimar
Workshop
Date:

Feb 18, 2019

Time:

02:00 PM - 05:00 PM (Local Time Germany)

Organisation:

Thomas Duve, Fupeng Li, Donal Coffey

Location:

MPIeR

Room:

Z02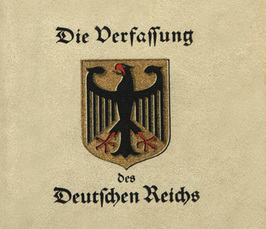 In the year of 2019, in memory of the centennial of Weimar Constitution, the MPIeR is planning a workshop of "Translating Weimar" to explore the cross-cultural resonance of the 1919 Constitution. We choose the perspective of "(Cultural) Translation", one of the Research Focus Areas at MPIeR, in order to provide a theoretical backdrop for the studies of the worldwide impact of the Weimar Constitution. This perspective allows us to leave Eurocentric preconceptions behind, taking a local point of observation, and offering new insights into the formation of a language of constitutionalism which emerged not least by the circulation of models and their translation into different contexts, especially in Asia, Europa, and South America.
The aim of the workshop is to discuss drafts of articles for a focus section in the next issue of Rechtsgeschichte - Legal History. Those interested in participation, please send an e-mail to li@rg.mpg.de.
------------------------
Picture: The Weimar Constitution (in booklet form), source: Wikimedia commons.