DCH research project is moving forward with three new articles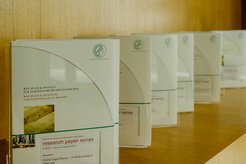 Three new contributions from the research project »Historical Dictionary of Canon Law in Hispanic America and the Philippines. 16th-18th Centuries (DCH) are now available online in the Institute's own research paper series on SSRN. The articles embody the aims of the dictionary project: to provide information about the most fundamental and significant concepts connected with the early modern ecclesiastical law in Hispanic America and the Philippines.
Diego Molina Pico investigates the Canonical Purgation (Purgación Canónica) as a form of testimony under oath (before God) used to demonstrate the innocence of a person accused of a crime where little or no evidence of the wrongdoing itself was available. In her article on Juvenile Delinquency (Delitos de los niños), Alejandra Juksdivia Vázquez Mendoza treats the juridical debates in canon law regarding crimes committed by minors or others not deemed criminally responsible. Esteban Federico Llamosas' article on Lawyers (Abogados) examines the role and the exercise of the office of advocate in the canonical justice. All articles are written in Spanish and available open access.