Fourth Annual Meeting of the Initiative for the History of Labour Law – 'Historicity of Judge-Made Law'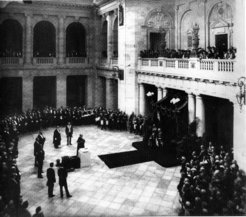 On 7 December 2018, the joint Initiative for the History of Labour Law of the Hugo Sinzheimer Institute and the Max Planck Institute for European Legal History organised its fourth Annual Conference on the 'Historicity of Judge-Made Law'. In his welcoming address, the MPIeR's managing director, Prof. Stefan Vogenauer, referred to the situation in various states of the European Union and undertook an initial historical classification.
The President of the German Federal Labour Court, Ingrid Schmidt, introduced the topic. She underlined the importance of labour courts playing an active role, particularly in view of existing gaps in the definition of legal concepts and in labour law itself. The protection and enforcement of fundamental rights is above all a key task for judges.
In his lecture on 'Das Richterrecht bleibt unser Schicksal - Zur Rechtsfortbildung durch die Justiz' ('Judge-made law remains our fate; on the development of law in judicial practice'), the former Federal Labour Court Judge and President of Chamber, Prof. Wolfgang Linsenmaier, dealt with the two types of legal development through case law: on the one hand, case law that stays within existing law, and, on the other, that which goes beyond it. He illustrated both types on the basis of a survey of the German Federal Labour Court's judicial tradition. Dr Martin Otto (FernUniversität Hagen) illuminated a key problem within the Weimar social order, using the case study of the largest labour conflict of the Weimar Republic, during which over 200,000 iron workers in the Ruhr area were locked out of their factories in a dispute over pay. His lecture 'Der Schiedsspruch muss beseitigt werden. – Arbeitsrecht als Richterrecht in der Weimarer Republik. Das Beispiel Ruhreisenstreit' ('The arbitrator's decision should be cast aside. Labour law as judge-made law in the Weimar republic") focused in particular on the practice of 'Ein-Mann-Schiedssprüche' (single-person-arbitration) in collective bargaining, which was regarded as invalid by the Weimar Republic's Labour Court. Prof. Eva Kocher (EuropaUniversität Frankfurt/Oder) lectured on the subject of 'Autonomie und Vorrang des EU-Rechts. Die Dynamik des Richterrechts' ('The autonomy and primacy of EU law. Dynamics of judge-made law'). She examined the development of the validity of EU law on the basis of the European Court of Justice's case law, and the member states' subsequent policy responses.
The Fifth Annual Conference in December 2019 will be devoted to the topic of 'Recht der Angestellten' ('Labour law of white-collar employees'), exploring a phenomenon that goes beyond the once dominant industrial blue-collar work. In view of dynamic employment relationships in the context of work 4.0, we also expect this to provide interesting historical findings that will add to our understanding of a current challenge.