Doucet Scholarship 2019 goes to Bruno Castelo Branco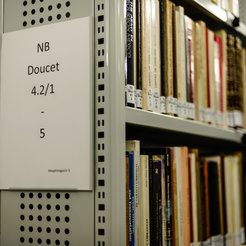 Bruno Oliveira Castelo Branco, PhD student in Social History at the Universidade Federal Fluminese (UFF) in Brazil, has won the Doucet Scholarship for the year 2019.
His research project carries the titleis entitled "Intertwined frontiers: amid labor and slavery of the Guarani in the conquest and colonization of South Amercica (1541-1641)" [Fronteiras sobrepostas: entre o trabalho e a escravidão guarani na conquista e colonização da América meridional (1541-1641)].
In 2015 the Institute has acquired the private library of the Argentinian legal historian Gastón Doucet. Together with his wife, the historian Lourdes Doucet, he collected more than 4.800 volumes during his lifetime. Since 2018 the Institute is offersing each year a one three-month scholarship to young researchers, especially from Latin America, who would like to work with this important collection.