Frankfurt Chamber of Industry and Commerce award for Ronja Weitzel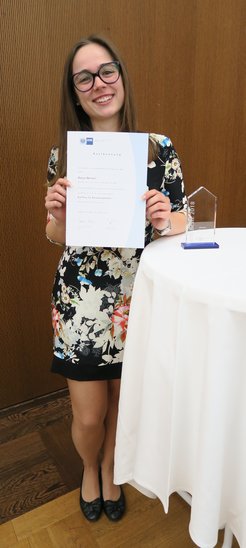 Our former trainee Ronja Weitzel, who passed her final examination to become a certified office manager with distinction in January 2018, was on 16 October 2018 honoured by the Frankfurt Chamber of Industry and Commerce (IHK) for her outstanding achievement. She was presented with a certificate and a trophy for her excellent exam results, which put her amongst the best trainees in the Frankfurt Chamber's district. The Institute's Head of Administration, Ms. Schurzmann, who oversaw Ms. Weitzel's training, accompanied her to the awards ceremony.
We congratulate Ms. Weitzel once again for her exceptional exam results!