Walter Kolb Memorial Award for Dr. Nina Keller-Kemmerer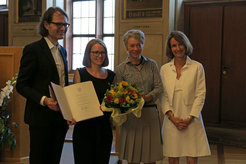 On Friday, August 17, Dr. Nina Keller-Kemmerer was awarded the Walter Kolb Memorial Prize in recognition of her outstanding dissertation entitled "The Mimicry of International Law. André Bello's 'Principios de Derecho Internacional'.
Dr. Keller-Kemmerer worked as a doctoral student at our Institute from 2010 to 2014. Her supervisor was Prof. Dr. Miloš Vec, and Prof. Dr. Michael Stolleis was her second evaluator.
In 1957, the City Council and the Magistrate of the City of Frankfurt am Main endowed the prize, which is awarded annually for a scientifically exceptional dissertation. The prize was first awarded in 1958 to Dr. Alfred Söllner (external scientific member of the MPIeR).
This award-winning work deals with a little-researched topic from the field of the history of global international law. During the selection process, the Commission and the Departmental Council focused on both the quality of the work and its innovative potential, said Dr. Ina Hartwig, Department of Culture of the City of Frankfurt:
"(...) Ihre Arbeit und Herangehensweise zeigt, wie befruchtend und erkenntnisreich es sein kann, wenn man als Wissenschaftlerin in der Lage ist, über den Tellerrand der eigenen Fachdisziplin hinauszuschauen. Sie beherrschen virtuos die Klaviatur der transdisziplinären Forschung und das hat überzeugt!"
[`(...) Your work and approach shows how fruitful and insightful it can be when a researcher is able to look beyond her own discipline. You have demonstrated a mastery of transdisciplinary research and this is what convinced us! ´]
---
Photographs: Otto Danwerth