Professor Vogenauer Delivers 2018 Selden Society Annual Lecture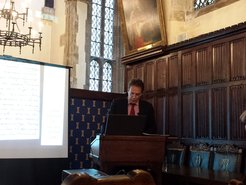 On 2 July, Professor Stefan Vogenauer delivered the Annual Lecture of the Selden Society in the Old Hall of Lincoln's Inn, London. The Selden Society is the only learned society devoted entirely to English legal history. It was founded by Frederic William Maitland in 1887. Today, it counts nearly 1,700 members, mostly in the English-speaking world. The Annual Lecture has been given since 1952. Previous speakers include John Baker, Paul Brand, Charles Donahue, C.H.S. Fifoot, Arthur Lehman Goodhart, Richard Helmholz, David Ibbetson, Robert Megarry, S.F.C. Milsom, James Oldham, Brian Simpson and Samuel E. Thorne.
Professor Vogenauer spoke about 'Translating Savigny: Legal Transplant as Career Advancement'. He focused on the biographies of three British lawyers who had translated Savigny's writings during the nineteenth century. Legal historians have offered various explanations for why these lawyers undertook their difficult task, ranging from the history of ideas to legal policy concerns and Savigny's international prestige. Based on archival materials and other contemporary sources, Professor Vogenauer suggested a further, much more mundane reason: their primary motivation was career advancement. Producing a translation of a famous jurist was a vehicle for getting ahead in their chosen professions. By way of conclusion, he argued that discussions of 'legal transplants' would generally be enriched by a focus on the actors who are responsible for borrowing legal ideas from another system.