Conference: "Organizing Justice: China and Europe from the 15th to the early 20th century"
Conference
Start:

Jun 1, 2016 03:00 PM (Local Time Germany)

End:

Jun 3, 2016 05:00 PM

Location:

Max Planck Institute for European Legal History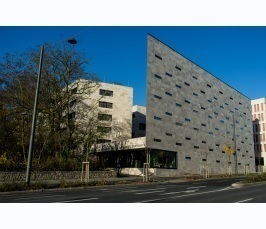 This conference, organized in cooperation with the Institute´s guests Maura Dykstra (Caltech), Wang Zhiqiang (Fudan, Shanghai) and Chiu Pengsheng (Chinese University of Hongkong), aims to start a dialogue between the research of Legal History from a Chinese and European perspective about the future of comparative legal history.
As the first of its kind at the Institute, the conference wishes to discuss the newest developments in the field of comparative and Chinese Legal History. Speakers from the fields of Chinese and European Legal History will explore and discuss the possible dimensions of future comparative research between China and Europe.
The conference will focus especially on the methodology in the field of comparative legal historical research.
The conference will be in English and start at 3 p.m. on June 1, 2016 and end at around 5 p.m. on June 3, 2016.
If you are interested in participating, please register at sekduve@rg.mpg.de.
Schedule:
Wednesday 1 June – 3pm to 7pm
3.00 pm Opening words (Thomas Duve, MPIeR)
3.30 pm 'China and Global History' (R. Bin Wong, UCLA)
4.45 pm Coffee break
5.00 pm 'Methodological approaches to global legal history from a German perspective' (Thomas Duve)
6.00 pm General Discussion
Thursday 2 June – 10pm to 7pm
10.00 pm Introductary words and review of June 1
10.30 pm 'What's legal in Chinese law?' (Jérôme Bourgon, CNRS)
11.45 pm Coffee Break
12.00 pm 'Mediation and Courts in China' (Maura Dykstra, Caltech)
1.15pm Lunch
3.00 pm 'Constructing "Commercial Law" in 18th century China (Chiu Pengsheng, Chinese University of Hongkong)
4.15 pm Coffee Break
4.30 pm 'Eighteenth century Criminal Justice in China' (Wang Zhiqiang, Fudan Shanghai)
5.45 pm Working Groups discussion
6.45pm Report of working groups
Friday 3 June – 10pm to 5pm
10.00 pm Introductory words and review of June 2
10.30 pm 'Compensation for Civil Damages in Criminal Cases' (Fédéric Constant, Paris X Nanterre)
11.45 pm Coffee Break
12.00 pm 'Land, Credit, and Possession in China', (Kentaro Matsubara, University of Tokyo)
1.15pm Lunch
3.00 pm 'Claims and Orthodxy' (Ian Miller, St. John's New York)
4.15 pm Discussion