Remembering a Pioneer
In commemoration of Michael Stolleis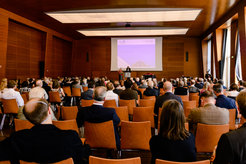 Last Friday, the mpilhlt held an academic commemoration ceremony in honour of Michael Stolleis, who passed away in March 2021 after having led the Institute as one of its directors for many years. The event, which had to be postponed due to the Corona pandemic, was held jointly with the Faculty of Law of the Goethe University Frankfurt, where Stolleis taught as a professor from 1974 to 2006.
In his opening address, university president Enrico Schleiff underlined the important role Stolleis played in the acquisition of the former IG Farben premises, which had always been a contentious site due to the company's complicity in the Holocaust, and in giving it a positive and integrative purpose as the new Campus Westend. Marietta Auer recalled the significant influence Stolleis had on the evolution and internal makeup of the Max Planck Society.
The academic reflections offered by former students and friends demonstrated in a very personal and impressive manner the impact Michael Stolleis had on those lucky enough have worked with him, not only by way of his academic brilliance but also due to his extraordinary personality.