Rebecca Marian receives the MPS 2020 trainee award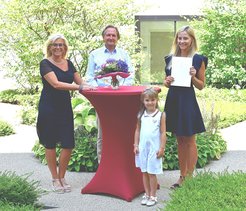 For the third time, the Max Planck Society Trainee Award (Azubipreis) was bestowed to a former trainee at our Institute. The award honours outstanding professional and educational accomplishments as well as personal development during the professional training.
On 4 August 2020, a small ceremony in the inner courtyard of the Institute was held and the certificate presented. Prof Thomas Duve, managing director, outlined the modalities of the award, and Ms Carola Schurzmann, head of administration and trainer, honoured Ms Marian's achievements and personal development. The distinctive feature of Ms Marian's training was that it was part-time due to her family situation. Prof Duve then presented her the certificate issued by the President of the MPS as well as a bouquet of flowers and congratulated Ms Marian. The staff members present at the event also congratulated her, which Ms Marian was visibly touched by.
Interview with Rebecca Marian
MPI Rg: Ms Marian, you have received the Max Planck Society's Trainee Award, which is giving to outstanding trainees for their professional and academic performance as well as for their personal development during their training. Congratulations on receiving this award! You have completed your training as an office management assistant. What was the decisive factor that led you to decide to start your training at the Max Planck Institute for European Legal History?
Ms Marian: At the beginning of my search for a training position, I had two offers. I had applied at two other companies, but my gut feeling said they were not the right for me. The conditions did not seem ideal. Part-time training, which would have been good for me, wouldn't have been possible, and the interpersonal relationship with the people I met at the job interview would probably not have worked out so well, in my opinion. So I continued to apply and had my third job interview here at the MPIeR. I immediately felt very comfortable here. During the interview I asked about the possibility of part-time training and they were receptive to the idea. Part-time training was not practiced here at the Institute at that time, but both the then personnel officer and the head of administration/trainer considered the idea quite compelling. And it worked out that way.
MPI RG: To get a better understanding of your vocational training, can you give us a brief overview of your duties?
Ms Marian: The training is divided into different sections and begins for a specific period of time with general administration, where one, for example, works the reception desk and performs different tasks there. After that, a rotation at regular intervals from department to department starts. So, I was first assigned to accounting, then to human resources and also to travel expenses and conferences. There I learned, for example, how to handle incoming invoices and bookings or found out more about conference management. Between the rotations there was always a block of schooling. Normally this training is conceived for a period of two-and-a half years. Since I did the training part time, however, it was initially planned for three years. After one year of training, I was able to shorten the period to two-and-a-half years with the approval of the Institute and the right grades.
MPI RG: As was mentioned earlier, not only your professional and academic performance, but also your personal development was recognised. One of the reasons for this is that you are a single mother of a young daughter. How did you deal with this challenging situation and how did the Institute support you?
Ms Marian: There was, of course, a challenge to be dealt with. But here at the Institute I never had the feeling that my child was a problem – quite the contrary. I was very much supported by my colleagues here. Initially, I myself had this image of mothers in my head who, due to their numerous obligations, are not readily hired. Personally, it also took a while for me to get passed this assumption. My boss was very accommodating in this regard. Due to my flexible working schedule, it was never a problem if my daughter was ill or I had to leave early because of an appointment. Privately, of course, it was much more difficult, especially during the times leading up to exams or testing at the vocational school. I first spent the day at work, including travel time, and then picked up my daughter and took care of her and the household. This means that you can't really start to study until around 10:00 p.m., which is of course very stressful. However, with regard to the training, I can say that the Institute, as an employer, could not have made it more pleasant for me.
MPI RG: The choice of part-time training served as a kind of support. What forms are possible in this area?
Ms Marian: There are different forms of part-time training and the models are quite varied. If one decides to reduce the weekly working time from 39 to 30 hours, an extension of the total training time is, to the best of my knowledge, not absolutely necessary. Anything below 30 hours is subject to an extension. What is important, however, is that the content is adequately taught during training. During the telephone conversation when I received the confirmation for the training position, I was allowed to decide how much I would be able to work per week. With a childcare time of eight hours at the childminder, I was able to work six hours a day, including travel time. We finally agreed on this.
MPI RG: Looking back at your training time, what did you appreciate here at the Institute?
Ms Marian: I very much appreciate the personal interaction and cooperation here within the administration, but also throughout the Institute. The administration is relatively small. During my training, there were seven employees and four trainees. As a result, you have a very different personal connection to one another. The relationship with colleagues outside the administration, for example, with employees of the other service department or the research staff, was always positive.
MPI RG: How did you perceive your personal development?
Ms. Marian: At yesterday's award celebration, my boss described my personal development during the training period from her point of view in her speech. She emphasised that in the first year I was still quite shy and afraid of making mistakes. Looking back on it now, I also recall that my first year was marked by the fear of falling short with regards to my child and my job. As a result of the encouragement I received, this fear turned out to be unjustified. As such, I have become much more confident.
The interview was conducted by Simon Fabian Seibert, student assistant in public relations