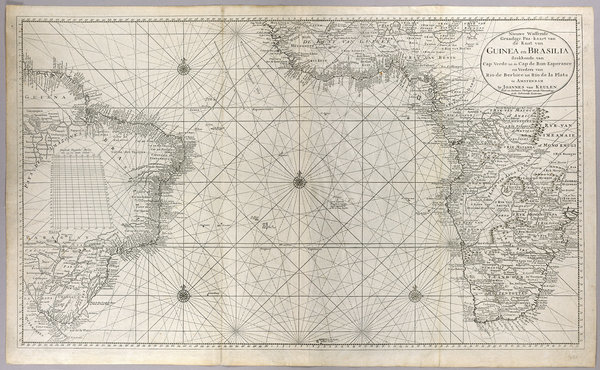 An ocean of norms – dependency and property in the Lusophone South Atlantic (1780s-1880s)
Completed Project
Portuguese expansion in the South Atlantic was characterised by a massive slave trade. But beyond commercial routes that allowed the transit of persons and goods across the Atlantic, there was also a wide circulation of habits, ideas and practices that articulated a shared Atlantic culture. Since law is a product of cultural practices, legal discourses also circulated in the ships that crossed the Ocean. It is thus possible to speak of a shared legal environment in the Lusophone South Atlantic and consequently also of a shared property law that shaped asymmetrical structures of dependencies in the various territories of the region.
A shared legal knowledge was not restricted to bureaucratic personal or to lettered discourses. Historical agents that did not have a formal legal education were also circulating across the Atlantic, and they took with them their own vernacular understandings of norms, law, and justice. These conceptions were built into their daily experiences and interactions with judicial institutions both in the kingdom and in the colonies. These people often resorted to courts in order to achieve better living conditions or to fight tentative enslavement, the subjection to other forms of dependency, or compulsory labour. In this sense, courts constituted a power arena where vernacular understandings of law and justice were translated into a specific juridical language.
Thus legal categories and institutions formerly structured in a European ius commune framework acquired new meanings in the Lusophone South Atlantic through the agency of local populations and their dynamic interactions with Portuguese bureaucratic agents. Local customes and normativities also had an important role in the construction of these new meanings acquired by legal categories such as 'slave', 'free', 'property', 'dominium', 'possession', etc.
In my postdoctoral project, I analyse how legal categories, norms and institutions of property law created asymmetrical structures of dependencies in the shared legal environment of the Lusophone South Atlantic. Specifically, I examine property law institutions and categories that shaped slave and land property as well as the statuses of diverse groups of people in-between slavery and freedom between the 1780s and the 1880s.
In the Lusophone South Atlantic, a similar legal regulation of slave and land properties had broad consequences. Slavery, freedom, and a whole range of dependencies were judicially framed in the language of property relations. To be free in the Lusophone South Atlantic, for example, meant to be in possession of freedom. To enjoy a juridical status meant to exercise possessory acts over this status. In this sense, the broad reforms that property law underwent toward the end of the eighteenth century and during most of the nineteenth century had a significant impact on the construction of asymmetrical structures of dependencies and, more specifically, on the reformulation of the legal regulation of land and slave property, the categorisation of people and on the reconfiguration of labour relations.
My research project thus departs from the perspective of legal and social history in order to analyse the forging of asymmetrical structures of dependencies through property law in the Lusophone South Atlantic. By focusing on the Lusophone South Atlantic (nowadays Angola and Brazil), it seeks to widen the spatial perspective by considering the interconnections of a region instead of adopting the most traditional strategy of focusing exclusively on specific countries. The archival research will be carried out in Arquivo Nacional (Rio de Janeiro), Arquivo Público do Estado da Bahia (Salvador), Arquivo Nacional da Torre do Tombo (Lisboa), Arquivo Histórico Ultramarino (Lisboa), Arquivo Histórico de Angola (Luanda), and Tribunal Provincial de Benguela (Benguela).
---
Image: Nieuwe Wassende Graadige Pas-Kaart van de Kust van Guinea en Brasilia Strekkende van Cap Verde tot de Cap de Bon Esperance en Verders van Rio de Berbice tot Rio de la Plata, Amsterdam , Joannes van Keulen, Boek en Zeekaart Verkooper aan de Nieuwenbrug in de Gekroonde Lootsman, ca. 1738, CC BY-SA 4.0 John Carter Brown Library, Image cropped by Editor