How decisions are made in an ecumenical council
Seminar
Date:

Mar 30, 2023

Time:

05:00 PM - 07:00 PM (Local Time Germany)

Speaker:

Alexandra von Teuffenbach

Location:

mpilhlt

Room:

Z01

Host:

Francesco Giuliani

Contact:

giuliani@lhlt.mpg.de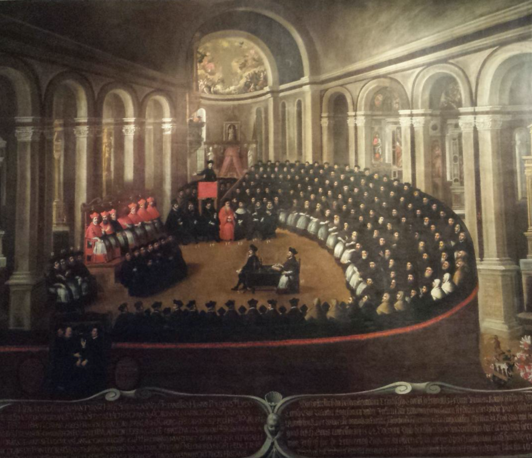 How decisions are made in an ecumenical council. The rules of the Council of Trent as a turning point in the development of council proceedings between tradition and innovation
The procedures by which decisions were reached at the Council of Trent were not established immediately. The papal legates who directed the assembly dealt with problems day by day and in agreement with the Pope, whom they consulted frequently. The secretary of the Council, Angelo Massarelli, however, took note of everything and left for posterity a detailed description of the methods followed, especially those that were ultimately "successful" given the Council's extraordinary results for the faith and customs of the Catholic Church. The analysis of the rules of the Council of Trent shows that they were modelled in many respects on previous ecumenical councils and that, thanks to Massarelli's detailed description, they became of fundamental importance in drafting the rules of the First Vatican Council.
This lecture is part of the lecture series "Normative production and decision-making processes in the Roman Curia (16th-20th centuries)".
All sessions are held in English and take place in hybrid format, in person at the Institute's premises and online. Participants may register here, specifying their mode of participation. Registration is possible until the very last moment.