mpilhlt at the 7th ESCLH Conference in Augsburg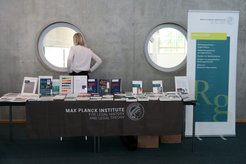 The 7th Conference of the European Society for Comparative Legal History (ESCLH) took place at the Faculty of Law of the University of Augsburg from 21 to 23 June. In 36 different panels with more than 100 presentations, a wide variety of topics in comparative legal history were discussed: from 'methods and ends of comparative legal studies', over 'comparative histories' of criminal, private, constitutional and labour law, to 'slavery, colonial history, and the law'.
Four members of the mpilhlt had the opportunity to present their research: Nina Cozzi presented 'Equal pay in Italy and France: a legal historical analysis of divergent implementations of EU law', Mariana Dias Paes spoke on 'Law and slavery in West Central Africa: Ovimbundo and Portuguese legal systems in the early modern period', Christoph Resch spoke on 'Contractual entire agreement clauses in the common and the civil law tradition' and Julie Rocheton presented her work on 'Newspaper and civil codes. The case of nineteenth-century North America'. The Institute, one of the sponsors of the event, was also represented by the Head of the Editorial Department, Otto Danwerth, who showcased recent Institute publications at a book stall.
Two highlights of the conference were the keynote lecture by Rebecca Scott (University of Michigan) on 'Habeas corpus turned inside out: the dynamics of peremptory enslavement in the nineteenth century Americas' and the mayor's reception in the Renaissance 'Goldener Saal' (Golden Hall) of Augsburg's town hall.
The next ESCLH conference is planned for 2025 in Szeged (Hungary).