Work and family in premodern societies
Volume 338 of the Studien zur europäischen Rechtsgeschichte out now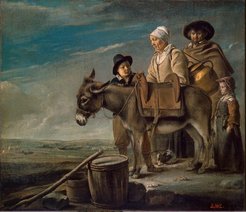 This volume brings together contributions on the theme of work and family in late medieval and modern societies in north-western Europe by social, economic and legal historians from France, Germany and Switzerland. According to the editors, Audrey Dauchy and Laila Scheuch, since the 1970s women's and gender history have been at the forefront both of overcoming the previously narrow understanding of work as paid employment and of acknowledging women's agency. Particularly influential were Heide Wunder's seminal studies on the 'working married couple' in the Holy Roman Empire. In her contribution (in French and German) to this volume, Wunder reflects on the impact and subsequent developments of her concept.
The other contributions build on the insights of these historiographical developments with case studies that use a variety of methods to examine the agency of wives, widows and daughters, their relation to work in the context of family structures, and the dynamics of social reproduction in premodern societies. On the basis of rich archival sources, the authors succeed in providing exemplary analyses of the (legal) history of work in the context of families, kinship networks, and other social constellations, including guilds, villages, or marginalised communities of Jews or Sinti.
The contributors bring the methods and insights from different disciplines – women's and gender history as well as legal, social and economic history – into fruitful dialogue with one another and, thanks to the broad chronological span under investigation (from the 13th to the 18th century) provide insights into the changing relationship between work and family in the longue durée.