Autorenworkshop zu neuem methodica-Band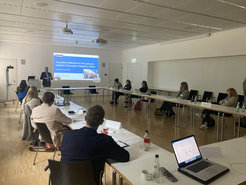 The members of the Research Field 'Legal History of the European Union' are currently working on a new volume for the Institute's methodica book series. The final touches were put on the manuscript at a workshop held at the mpilhlt on 9 and 10 June, where the draft was discussed with external experts. These included Steven Van Hecke (Katholieke Universiteit Leuven), Carine Germond (Norges teknisk-naturvitenskapelige universitet Trondheim), Karin Van Leeuwen (Universiteit Maastricht), Brigitte Leucht (University of Portsmouth) and Thorsten Keiser (Justus-Liebig-Universität Gießen).
The volume is scheduled to appear in 2023 and will be published by De Gruyter Oldenbourg.
The book series methodica
The series methodica – Einführungen in die rechtshistorische Forschung offers introductions to research in legal history focusing on sources and methods. The volumes provide basic information in a standard format without claiming the comprehensiveness of a handbook, and cover topics from the history of research and sources to methods, the craft of legal history, and basic literature on the particular topic.
The aim of the volume is to introduce the next generation of students and researchers to a multitude of methods and approaches in the field of EU legal history and to offer a substantial bibliography of the fundamental literature on various relevant topics. As legal historians have only recently turned to the history of EU law, many of the contributions draw on the work of experts in related disciplines such as contemporary history, political sciences, sociology or EU law.