Legal Theory Graph Project
Research Project
The Legal theory graph project at the Max Planck Institute for Legal History and Legal Theory aims to produce publicly accessible, machine-readable data on legal theory scholarship (with a focus on socio-legal theory), mapping scholars, institutions, publications and citations in a network graph. Data for this graph is collected by harvesting metadata, using text mining techniques and manual entry.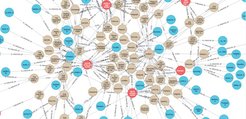 The project is currently in an exploratory phase. In addition to research on existing scholarship and available technologies, I am conducting a pilot study using a text corpus and metadata collection on the Zeitschrift für Rechtssoziologie (German Journal of Law and Society). The primary aim of the study is to produce statistical and network graph data on the journal. Equally important, this phase also aims to generate concepts and workflows that, in an iterative process, can be used to ingest a much larger body of literature for analysis and inclusion into the graph.
In later phases of the project, the focus will thus be broadened to encompass legal theory and legal philosophy more generally. All suitable data will be made available Open Access once the project has been completed.