Cornelia Weiss on Post-WWII Occupied Germany: Examining the Effect of a Male Majority Occupation on the Political Power, Legal Rights, and Economic Opportunities of Women in a Female Majority Land
Lecture
Date:

Jul 30, 2021

Time:

12:00 PM c.t. (Local Time Germany)

Speaker:

Cornelia Weiss

Organisation:

Victoria Barnes, Amber Rose Maggio, Zeynep Yazici Caglar

Location:

video conference

Room:

For further information please contact minervalawnet@lhlt.mpg.de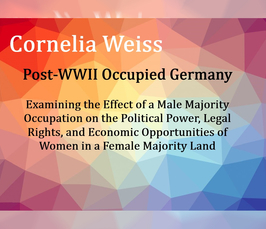 Cornelia Weiss, a former US colonel (Judge Advocate), served in Europe, the Americas, and the Pacific. The Colombian Public Forces recognized her work in Colombia by awarding her the Medalla al Mérito Militar en Derecho Humanos y Derecho Internacional Humanitario "General José Hilario López Valdés" and the Medalla Militar "Servicios Distinguidos a la Justicia Penal Militar." Other honors received include the US Air Force Keenan Award for making the most notable contribution to the development of international law.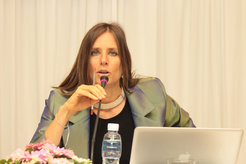 A graduate of the Inter-American Defense College, she holds a GED, an AA (Colorado Mountain College), a BA (University of Utah), an MA (ANEPE), and a JD (Vanderbilt). In addition to serving as a National Endowment for the Humanities Summer Scholar, her fellowships include the Ian Axford Fellowship (New Zealand and Timor-Leste) and the Rotary Peace Fellowship (Thailand and Nepal).
By illuminating barriers and excavating forgotten history, she seeks answers to end discrimination against women. Her 2020 publications include "The Nineteenth Amendment and the U.S. 'Women's Emancipation Policy' in Post-World War II Occupied Japan: Going Beyond Suffrage," Akron Law Review; "Discrimination Against Women, Rule of Law and Culture of Peace: Colombia's 'Peace' Agreement," The Fletcher Forum of World Affairs; and "The State of Civil-Military Relations Education: Falling Short?," Hemisferio.
Register here.