Second FA Mann Project Workshop
Workshop
Start:

Jun 10, 2021

End:

Jun 11, 2021

Organisation:

Jason G. Allen and Gerhard Dannemann (Centre for British Studies, Humboldt University), Prof. Stefan Vogenauer

Location:

Online

Room:

For further information please contact jason.allen@hu-berlin.de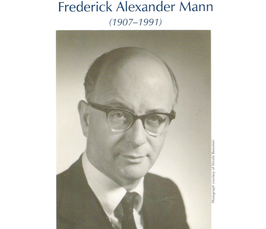 Overview
The aim of the project 'F.A. Mann (1907-1991) and his Contribution to the Development of English, German, European, and International Law' is to explore, document and critically assess the considerable impact of F.A. Mann on the development of English, German, European and International Law in the twentieth century. Central to the project is the exploration of an extensive corpus of unpublished papers by a diverse range of experts around the world.
The project seeks to provide a definitive account of Mann's impact on the fields of monetary law, international private law, the law of arbitration and the trans-nationalisation of law. This workshop will serve to present preliminary findings and set the timetable for the future publication of research findings.
The project is organised by the Humboldt University Centre for British Studies and involves both the British Institute of International and Comparative Law (London) and the Max Planck Institute for Legal History and Legal Theory (Frankfurt) as cooperating institutions.
Venue
The workshop will be held at the Max Planck Institute for Legal History and Legal Theory, Frankfurt am Main, Germany. Due to the ongoing SARS-CoV-2 pandemic, the format had to be shifted to an online workshop. Setting the stage for this event a number of online workshops dealing with the law of money, public international law, private international law, commercial law and arbitration, and the legal profession and legal biography have already taken place.
Participation will be free of charge, but you need to register by sending an informal mail to jason.allen@hu-berlin.de. Information regarding the platform hosting the event will follow in due time. We will make sure that the platform will be as parsimonious as possible.
Please note: Upon invitation only.
---
Image: Photograph courtesy of Nicola Beauman.