Guest Workshop: Legal Historiography
Guest Workshop
Datum:

21.07.2017

Uhrzeit:

14:00 - 18:15

Vortragende(r):

Organisation

Victoria Barnes

Ort:

MPIeR

Raum:

Z 01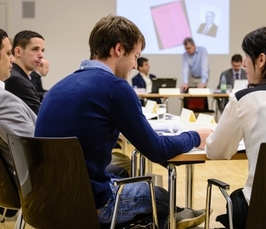 The workshop on July 21 will be the third in this year's series of guest workshops at the MPIeR. Visiting researchers will discuss their projects and reflect on the research field of Legal Historiography. Questions of sources, methodology and objectives are central to all legal and historical research. The third guest workshop tackles some of these theoretical issues by relating them to new case studies and other practical examples. These questions are also open to the audience to share experiences or expertise and offer advice on strategies in archival research. The workshop offers a selection of presentations on a wide range of projects and speakers with expertise in several different areas.
The guest workshops provide an important opportunity for guests at the MPIeR to become integrated into the legal history research fields, to network with other researchers and to receive feedback on their current work. Visiting researchers will only be based at the MPIeR for a short period of time. A brief synopsis of the guests who will present their projects at this workshop and their contact details can be found below.
In the first session, Álvaro Caso Bello joins us from John Hopkins University where he is currently researching political representation and the people empowered by Spanish American City Councils in Madrid in the eighteenth and nineteenth centuries. He is in the second year of his PhD and this project will form part of his dissertation. Michele McArdle Stephens will then discuss her new book exploring Women and Criminality in Yucatán between 1910 and 1960. Michele is an Assistant Professor of History and the Director of Latin American Studies at West Virginia University.
The second session will begin with a paper by Maciej Mikuła. Maciej is investigating the invention of printing as a turning point in legal history. He has a long history with the MPIeR as he first visited for the Summer School in 2007 and holds a Chair in Polish Legal History at Jagiellonian University. A presentation by Jānis Lazdiņš, who is a Professor at Latvijas Universitātes, will follow. Jānis will examine restitution in Latvia after the Soviet occupation. This is part of his larger project on the experience, lessons and international importance of the restoration of Latvia's independent statehood.
The final session will be opened by Omer Aloni. Omer is writing a revisionist legal history of international law and the League of Nations. He comes to us from the Buchmann Faculty of Law at Tel Aviv University and is in the final stages of writing up his doctoral thesis. Jonathan Rose will close the workshop with a discussion about sources in medieval legal history which is linked to his new book on Champerty and Maintenance. Jonathan Rose is an Emeritus Professor of Law & Willard H. Pedrick Distinguished Research Scholar at Arizona State University.