The Holy See and the migration of priests between Europe and the Americas (19th-20th centuries). Crafting normative knowledge to govern a new phenomenon
Forschungsprojekt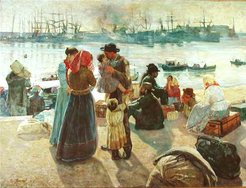 By the last decades of the 19th century, mass migration became an established reality. As never before, countries like Argentina, Brazil, Uruguay and the United States received large numbers of persons from European territories. Among them were Catholic faithful and, in particular, Catholic priests. Coming from a Europe where few ecclesiastical offices were available, migrant priests found many opportunities to exercise their ministry in the other side of the Atlantic.
The Holy See was not indifferent to the phenomenon. Its attention, however, was drawn to it for negative reasons. In the 1880s, the lack of discipline of Italian priests settled in the Americas was reported to the Vatican in strong terms. Local authorities claimed that the foreign ecclesiastics were involved in commercial profit, cultivated 'depraved' and 'corrupt' habits, were close to non-Catholic groups, and neglected worship. Concerned with retrieving ecclesiastical discipline in an increasingly secularised world, dicasteries such as the Congregation of the Council, the Secretariat of State, and the Consistorial Congregation produced several general norms between 1886 and 1919. At first, these regulations focused on the emigration of secular priests from Southern Italy, but they eventually came to cover emigrants from Spain, Portugal, and even Europe as a whole.
My aim is to demonstrate that the Holy See's addressing of the migratory phenomenon went beyond the issuance of general norms. It entailed interactions among a wide range of actors, the crafting of new categories and the modelling of practical solutions. In other words, as part of the Research Group Normative Knowledge in the Praxis of the Congregation of the Council. The Production of Normative Categories and Models for the Post-Tridentine World, this project embraces the perspective that the Holy See's governing of ecclesiastical migration was a process of production of normative knowledge. Analysing the dialectic relationship between general norms and the large flows of specific cases presented to the Congregation of the Council, I wish to grasp how migration was transformed into a concept with normative and legal value. How did praxis forge concepts? How did concepts (re) organize praxis? I am also interested in how the cardinals established (and eventually changed) normative models – e.g., standard decisions, standard procedures - while balancing consistency and contingency in decision-making and how general norms and specific cases affected each other.