Ulla Weber on Gender Equality Monitoring, Diverse Work and Research Culture
Seminar
Datum:

28.05.2021

Uhrzeit:

12:30 - 13:30

Vortragende(r):

Ulla Weber(MPG)

Organisation:

Victoria Barnes, Amber Rose Maggio, Zeynep Yazici Caglar

Ort:

Videokonferenz

Raum:

Für weitere Informationen wenden Sie sich bitte an minervalawnet@rg.mpg.de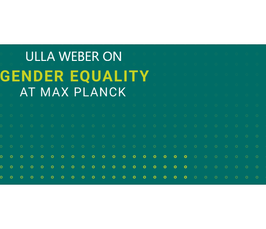 This event is organised by the Minerva LAW Network.
Ulla Weber is the Central Gender Equality Officer for the Max Planck Society. She is based in the Head Office in Munich and has held this post for almost a decade now. Before coming to the Max Planck Society, Ulla worked as a Coach and Trainer at the Gender Center in Technische Universität München. She holds a PhD in pedagogy, media advice and Slavic Studies. Ulla has published extensively on the challenges and strategies for equality. Her work often builds on her proficiencies, knowledge and experience in leading such projects and developing policies as Central Gender Equality Officer. Ulla's publications provide a comprehensive and thorough bird's eye view of the various ongoing initiatives, programmes and schemes designed to improve gender diversity. Aside from these activities in strategic planning, creating change and in evaluating organisational policies, Ulla also offers down to earth practical advice to individuals and departments. She has taught courses to overcome gender bias on both an individual and organisational level.
In her day-to-day professional capacity, Ulla, and her team in the Gender Equality Office, provide counseling for all persons, levels, functions, groups, and committees. Their aim is to guarantee a uniformly high level of Gender Equality work in the Max Planck Institutes, while preserving the professional and cultural diversity of the Institutes. Ulla supports those in Max Planck Society with the implementation and advancement of its Gender Equality objectives. Her tasks, roles and competencies include among others:
Initiating Gender Equality measures and projects,
Advising the different internal target groups – Institutes, Management, Sections and office holders - in all matters relating to Gender Equality,
Sitting on the different central governing bodies of the Max Planck Society,
Supporting the Gender Equality Officers in the Institutes, Facilities and Sections through the provision of information and training, as well as through the negotiation of the role, rights and obligations of the officers with decision-makers and governing bodies,
Enabling the internal and external communication regarding Gender Equality,
Representing the Max Planck Society externally.
This session is intended as a brown bag lunch session. Ulla will talk informally over lunch about her experiences and ideas, gender and diversity in the Max Planck Society, various strategies and plans as well as their effectiveness.
Register for the event here