Call for Papers:  The Contribution of the Legal Services of the European Institutions to European Union Law
Conference Frankfurt/Main, 18-19 June 2019
Deadline: 29 March 2019
The Research Field 'Legal History of the European Union' attempts to situate the history of European law in a longue durée perspective, emphasizing the comparative dimension and taking into account the broader political and socio-economic context.
The 2019 conference will examine the history of European law with a distinct focus on the contribution of the Legal Services of the European Institutions to European Union law from its origins until the present day.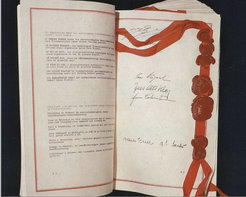 Possible paper topics include (but are not restricted to):
The role of the Legal Services in the institutional and informal practices aiming to influence constitutional practices
Scholarly and policy contributions by key administrators serving in Legal Services
The history of legal doctrines elaborated in these services in the process of European integration
Inter-institutional controversies between the Legal Services
The contribution of the Legal Services regarding treaty negotiations
We welcome proposals of not more than 150 words by 29 March 2019
Please email your proposal and a short CV to ramirez@rg.mpg.de.