Jour Fixe: The Many Meanings of Divisible Sovereignty: Princes, British Officials, and the Indian States Committee, 1928-1929
Jour Fixe
Datum:

12.11.2018

Uhrzeit:

12:00 - 13:00

Vortragende(r):

Priyasha Saksena (MPIeR)

Gegenüber:

Emily Whewell

Ort:

MPIeR

Raum:

Vortragssaal des MPI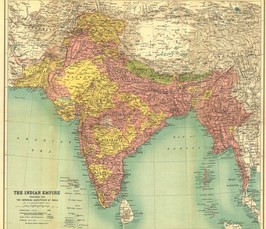 The British Empire is represented in an even pink tone on maps, but it comprised a number of disparate legal entities. Colonial South Asia, for instance, included directly ruled British India and British Burma, numerous "princely states," and nominally independent kingdoms like Nepal. In my research, I focus on debates surrounding the sovereignty of the princely states, which were ruled by indigenous rulers and were not considered to be British territory, but remained subject to British "influence." On account of the disputed legal status of the states, questions were raised over the extent of sovereign rights and the proper exercise of powers. As a result, the concept of sovereignty became both the tool and the terrain for legal and political struggle between British and South Asian actors throughout colonial rule.
In my presentation, I will focus on legal arguments made before the Indian States Committee, which was established in 1927 to report upon the relationship between the British Government and the princely states. I will argue that both British officials and princely state representatives relied on the concept of "divisible sovereignty" to defend their visions of the imperial order, although they had very different understandings of the idea. Both sides argued that the sovereignty of the princely states was divided between the British Government and the state in question; however, the princely states argued that this division was based on "consent," while the British argued that the division was based on "imperial interests."
I will suggest that the examination of such moments of conflict is essential for understanding the complicated role that law played in colonial legal systems. By examining the multiple perspectives on the idea of sovereignty asserted in these debates, we can understand that law, and the doctrine of sovereignty in particular, became a shared language for British and South Asian participants to debate political and social problems and also a key forum for the negotiation of political power.
---
Image: The Indian Empire, The Imperial Gazetteer of India, 1909. Courtesy the Digital South Asia Library, University of Chicago