Jour Fixe: Kaala Paani and the Archive: South Asian Indenture to Jamaica
Jour Fixe
Datum:

10.04.2017

Uhrzeit:

12:00 - 13:00

Vortragende(r):

Eddie Bruce-Jones (University of London)

Kommentar:

Otto Danwerth

Ort:

MPIeR

Raum:

Z 01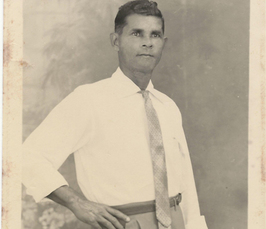 Between the 1938 and the 1916, over a million South Asians were transported to British Colonial territories and indentured to work on plantations and for industrial projects in Mauritius, Fiji, British Guyana, Trinidad and Jamaica, amongst other places. The transport of these people meant the movement of a diverse group, representing different castes, religions, ages and language groups. The focus of my work is on indenture to Jamaica. Indenture in Jamaica, though written about significantly by historian Verene Shepherd, has not been the focus of much writing on indenture—because of the larger numbers of Indians indentured to other parts of the Caribbean, such as Trinidad and Guyana.
In my presentation, I examine two key aspects of South Asian Indenture to Jamaica.
First, I will discuss some of the historical mapping by Shepherd and others of the indenture system as it affected Jamaica. The mapping raises further questions about the material circumstances as well as the cultural and religious continuities and disruptions experienced by the South Asian population in Jamaica, which I intend to take up in a later stage of this project. Second, I will examine the opportunities for methodological innovations that make use not only of legal-historical genres of archival research, but also ethnography, fiction and memoir in order to capture aspects of the relevance and depth of this research, particularly in the South Asian and Jamaican diasporas. Inspired by Bahadur's Coolie Woman (an historical memoir) and Christina Sharpe's In the Wake (on Black phenomenology and historicity), I use the detailed description, letimotifs and metaphors offered fiction writers such as Amitav Ghosh and others to interrogate common-place understandings of the legal history of indenture and its aftermath.
I ultimately suggest that perhaps the ways in which diasporic imaginings of indenture contest the temporal and spatial rigidity of legal historical narratives. The knowledge about the experiences of the South Asian Jamaican diaspora puts the construction of memory and the revival of ghosts onto a productive collision course with a stayed linear approach that, I argue, is a colonial convention.