Meet the Author – Tamar Herzog
Tamar Herzog
Datum:

31.05.2017

Uhrzeit:

16:00 - 18:00

Ort:

MPIeR

Raum:

Z 01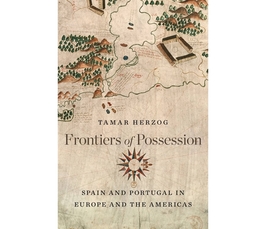 On May 31, the Institute will host a meet-the-author evening with Tamar Herzog, the Monroe Gutman Professor of Latin American Affairs and Radcliffe Alumnae Professor at Harvard University. We will have the great opportunity to discuss her most recent book: Frontiers of Possession: Spain and Portugal in Europe and the Americas (Harvard, 2015). Formerly a faculty member at the Universidad Autónoma de Madrid, the Princeton Institute for Advanced Study, the University of Chicago, Stanford University, and currently a professor in Harvard's Department of History and School of Law, Herzog has been an essential contributor to the historiography on law in colonial Latin America, and the development of early modern law, in general.
This event will focus on her most recent monograph, Frontiers of Possession (recipient of the 2016 James A. Rawley Prize in Atlantic History from the American Historical Association), which examines "how territorial borders were established in Europe and the Americas during the early modern period and challenges the standard view that national boundaries are largely determined by military conflicts and treaties. Focusing on Spanish and Portuguese claims in the New and Old Worlds, Tamar Herzog reconstructs the different ways land rights were negotiated and enforced, sometimes violently, among people who remembered old possessions or envisioned new ones: farmers and nobles, clergymen and missionaries, settlers and indigenous peoples." The event will offer those who have read the monograph a chance to dialogue with Herzog about conceptual bases from which she worked and authorial choices she made in its elaboration.
This most recent publication follows a long trajectory of thinking about early modern legal questions. Her early work (La administración como un fenómeno social [1995]; revised English edition Upholding Justice [2005]) focused on the administration of criminal justice in Quito in the early modern period, questioning how "justice" operated on a day-to-day level; who was involved in requesting and making it, how they went about doing that, what their decisions were based upon, and what were the constraints that conditioned their experience. Her second book (Mediación, archivos y ejercicio [1996]) examined the practice of perhaps the most important cog in the functioning of imperial justice, the notary, at a local level, while her third (Ritos de control, prácticas de negociación [2000]) examined the role of such notaries in inspections (pesquisas, residencias, and visitas) with ramifications on the imperial level. Subsequent work (Defining Nations: Immigrants and Citizens in Early Modern Spain and Spanish America [2004]) presented an alternative story for the processes of both "state" and "nation" formation by examining how communities were defined in Spain and in the territories of its overseas empire. In addition to the above-mentioned monographs and their translations into various languages, Herzog has also authored numerous articles and book chapters, and has published three edited volumes.