PhD@maxlaw Workshop 2017
Workshop
Start:

May 3, 2017

End:

May 5, 2017

Organisation:

Justine Collins, Niels Pepels, Philipp Schmitt

Location:

MPIeR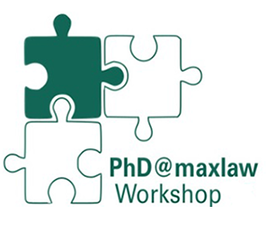 3rd Max Planck Young Legal Scholars' Meeting, Frankfurt am Main 2017
Attention MPI Doctoral students,
In endeavours to maintain the excellent precedents set by the previous workshops in Bonn and Hamburg respectively, we would like to kindly invite PhD students who are working on law or legally pertinent research at any of the Max Planck Institutes to partake in this year's workshop hosted by the MPI for European Legal History in Frankfurt. The PhD@maxlaw Workshop will occur on the following dates:
3rd - 5th May 2017.
Purpose
The workshop is an opportunity to make contact, share experiences, ideas and network with other PhD students. Participants are encouraged to present their research interests though this is not mandatory. In turn presenters will profit from feedback through positive critique, gain insights into the work of others and identify possible areas for future collaboration.
Presentations
Participants can present on their extant research whether it is part of their PhD thesis or a side project or simply any project or work in its infancy; so long as it is research which you think the other PhDs can give positive critique to. Presentations can be between 10 - 20 minutes, followed by commentary. Presenters can use any means of illustrating their work as they deem fit. The workshop will be conducted in English.
Registration
The deadline for registering is the 27th of March 2017. Please do so by filling in the registration form you will find in the right column and send it to phd-workshop@rg.mpg.de. Preliminary information will be requested such as whether you will be presenting, and if so, the title of your presentation. Confirmations will be sent out by mid-March as well as information regarding accommodation. There is no participation fee.
In case of any questions please do not hesitate to contact us at phd-workshop@rg.mpg.de, Justine Collins +4969789292, Niels Pepels +4969789291 and Philipp Schmitt +4969789261.
We look forward to welcoming you in Frankfurt!