CfP: Oral History meets European Studies. Sources, tools and methods in the digital age.
Call for Papers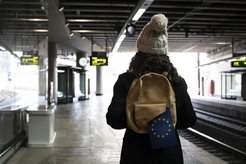 The 2023 International Summer School 'Oral History meets European Studies' is organized by the Max Planck Institute in cooperation with the Luxembourg Centre for Contemporary and Digital History (C2DH) and the European University Institute (EUI). It will be hosted by the C2DH's in the Robert Schuman House in Luxembourg between the 3rd and the 6th July 2023.
We are offering a four-day training focusing on digital tools used for oral history projects dealing with narratives in contemporary European history. We are looking for candidates to participate and share their research experiences in on-going or recently completed research projects (at doctoral, postdoctoral and professional level). A detailed description of the summer school's topic and its conceptual framework can be found in the full text of the Call.
The deadline for submission of proposals is 31st January 2023.
Please find further information on the Maison Schuman's website and the CfP.